AceSEF 1.7 released for Joomla 1.7 SEO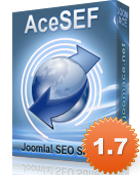 We've started a discount campaing (80%) for upgrade from AceSEF 1.5 to AceSEF 1.7 Place coupon code acesef17 in your cart when you order to save!
How to buy step by step
1- Login on www.joomace.net
2- Go to the link www.joomace.net/downloads/acesef/component
3- Select the AceSEF Plus, Pro or VIP regarding you have bought latest your package
4- Add to cart e.g : AceSEF Pro 6,12,24 or 48 for AceSEF 1.7
5- Copy to paste this coupon code : acesef17 after click the process button.
6-Fill in the company, address, country
7- Click the check box "I Accept Terms and Conditions "
8- Click the process order.
9- Check your subscription area and download it.
Note: This coupon code is available for active users of AceSEF Plus, AceSEF Pro and AceSEF VIP.