JoomAce LLC is taken over by Karekup Agency

We are very pleasure to announce that JoomAce LLC is taken over by Karekup Agency.The strategies and policies will be decided by us.We are working for you,we are fixing all problems on JoomACE LLC.
WHO WE ARE?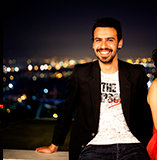 Erdi Yesildag
graduated from Physics department of Istanbul University. He has been using CSS and HTML since 2005 after that he using C# and .Net
He also set up Karekup Agency in 2013. When he decided to develop a web application, he was chosen PHP for web programming since 2009. He has been developed a lot of E-commerce project before Joomace LLC. Then, he was taking over JoomAce LLC.
He also interested in Photoshop, After Effects,Illustrator and some design application. He is very creative people so that he is Inovation Manager on Joomace LLC. He like thinking and find out invention for better future.
He is also educated about
Ecommerce
Software Design and Patterns
Internet Engineerings
Data Communications
Database design and applications
Photographing


This e-mail address is being protected from spambots. You need JavaScript enabled to view it
---
Have a good day May the force be with you :)